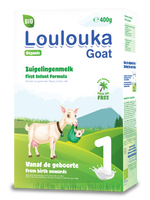 Loulouka Goat Milk Formula
When it comes to high quality, organic infant formula, European baby formula has the attention of many parents and caregivers. Many companies have decades of experience, particularly in biodynamic agriculture. It is important to consider the well-being of the animal producing milk and the environment in which they live. These creatures live the good life, and in return they produce superior ingredients for organic products. Through years of science, research, and strict regulations, European baby formula contains excellent ingredients that support a baby's health and wellness and nothing that may adversely affect it. No GMOs, no added sugars or syrups, no growth hormones or chemicals. 
Loulouka took years of research to create the ideal baby formula and jumped into the infant nutrition market in 2019. The choice to produce a cow milk formula with Swiss milk, coconut oil, and other all-natural ingredients. But Loulouka didn't stop there. Loulouka took the best ideas from their organic cow milk formula and used it for Loulouka Goat Milk formula.
Why Goat Milk Formula?
Goat milk formula has attracted the attention of parents when it comes to babies that can benefit from this product:
Softer curd makes digestion easier

Less lactose can be tolerated better for developing digestive systems

Milk protein is smaller compared to cow milk. 
Where is Loulouka Goat Milk Formula Made?
Loulouka goat milk formula starts with Swiss goat milk. The goats are raised in the Alps following organic agricultural practices. They are never exposed to steroids, hormones, or antibiotics that can get into the milk. It meets or exceeds the expectations of the European Union that governs the regulations on infant nutrition.
What Ingredients are in Loulouka Goat Milk Formula?
Whole organic goat milk

Lactose (from milk)

Sunflower and rapeseed oil

All of the vitamins, minerals, and fatty acids to fortify the formula as required by law
What Stages Does Loulouka Goat Milk Formula Come in?
Stage 1: From birth to 6 month

Stage 2: From 6 months on
If you are interested in introducing goat milk formula to your baby, you have three brands from which to choose on our website. If you like Loulouka's cow milk formula, consider the possibilities of Loulouka goat milk formula. And as always, you can try it with the confidence of our Satisfaction Guarantee. If you don't like it, your baby doesn't tolerate it, or you want to go back to your original formula choice, let us know and we can issue a store credit for your next purchase of any of our products.