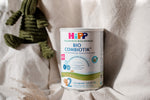 When Should I Move Onto HiPP Stage 2?
If your little one has reached 6 months, and has been happy and growing well on HiPP Stage 1, you're probably wondering whether it's time to switch up to Stage 2. Do you have to switch now, or is it best to wait a while if they're still doing well on Stage 1?
Or maybe you've been breastfeeding exclusively up until now, and you'd like to start to introduce formula. If your 6-month old's never had formula before, should you move straight to Stage 2 or use Stage 1 for a while first?
Most of the time, it's best to use the formula stage recommended for your baby's age, whether or not they've had formula, breastmilk or a mix until now. 
What are the Hipp formula stages? 
HiPP Dutch and HiPP UK both come in three stages: 
Stage 1 for birth to 6 months

Stage 2 for 6-12 months

Stage 3 for 12 months+
With HiPP German, things are a little more complex. 
Stage Pre for birth to 3 months

Stage 1 for birth to 6 months

Stage 2 or Stage 2 (no starch) for 6 to 10 months 

Stage 3 for 10 to 12 months 

Stage 4 for 12 months+
What are the differences between each stage of HiPP?
The differences between each stage aren't huge, but can be important for some babies. 
Stage Pre and Stage 1 formulas are designed to be  particularly gentle on tiny tummies, with only easy-to-digest ingredients and zero starch. 
From Stage 2, HiPP German offers a choice of starch or no starch. Some babies find starch hard to digest past 6 months, while others will benefit from the extra slow-release carbs to keep them fuller for longer. If you're using HiPP Dutch or UK and you have a particularly hungry baby, it's worth considering switching to HiPP German to see if they're more satisfied on a formula that includes mild, organic starch. 
Stage 2 also has more protein than Stage 1, which can provide more of the energy they need as they learn to crawl and then walk. At 6 months, your baby is probably getting pretty curious about the world and starting to really explore. While they're no doubt starting to get some calories from solid food, milk is likely to remain their main source of energy for a few months to come. This is where Stage 2 can help, with a different balance of nutrients designed to fuel that exploration. 
Do you have to move on to Stage 2?
It's not necessarily essential. While we recommend you switch up within a couple of weeks of your baby reaching 6 months, some parents choose to remain on Stage 1 for longer. 
As always, it's about assessing your baby's needs and the research and figuring out what works for your family.