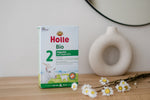 What's The Difference Between Holle Stage 2 and 3?
For parents looking for formula that's both ethically produced and highly nutritious, Holle is the obvious choice. This Swiss organic formula brand is a pioneer of European organic agriculture, with a history that stretches all the way back to 1933. 
As well as meeting the EU's tough organic regulations, they are certified by biodynamic agriculture organization Demeter. Demeter standards "guarantee methods of production and processing that are environmentally friendly, ethical and sustainable." For those who want to do the best for their little one now, and the future world they'll grow up in, Holle is often the obvious choice. 
Like other European organic formulas, Holle is:
Free from GMOs

Made without the use of pesticides, hormones or steroids

Nutritionally balanced 

Free from potentially harmful additives such as corn syrup
What's different about Holle?
As well as being Demeter certified, Holle is a good choice for those with particularly hungry babies. All stages include easily-digestible, slow-release carbs in the form of organic maltodextrin, a modified starch. 
While some parents try to avoid both maltodextrin and unmodified forms of starch, it can be beneficial for babies who struggle to stay full for long on other formulas. Holle provides sustainable energy and a satisfyingly creamy texture that works for even the most demanding of little ones. 
When should you switch from Holle Stage 2 to Stage 3?
If your baby is around or approaching 10 months and currently on Holle Stage 2, you might want to think about switching up to Holle Stage 3. Though they're very similar nutritionally, there are some important differences, with Stage 3 including higher levels of the nutrients they'll need as they transition into toddlerhood.
Holle Stage 2
Made for babies aged 6 to 10 months, Holle Stage 2 offers balanced nutrition to support growth and weaning. The balance of lactose and slow-release carbs means it's ideal for babies at this age, who are usually beginning to crawl and cruise, and are sometimes getting close to first steps. If you're currently using a different brand, but finding that your baby doesn't seem satisfied, it's worth considering a switch to Holle.
Holle Stage 3
Stage 3 is nutritionally very similar to Stage 2, but with extra nutrients to provide the energy levels babies need as they get even more active and perhaps start to walk. It includes higher levels of potassium, protein and folic acid than Stage 2. Both stages include essential vitamins A, D, E, B2, and B12.
What's next?
From Stage 3, your baby can either transition to whole cow's milk at 12 months, or move onto
Holle Stage 4
. This is formulated specifically for toddlers and, as well as providing all the essential nutrients they need as they become active little people, it's kinder to the environment and free of the hormones and pesticides that are often found in standard cow's milk.