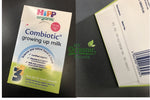 How To: Read Our Baby Formula Expiration Dates
All products carried at My Organic Formula are European manufactured in which the expiration dates are not in US date format. 
Here is how to properly understand the dates listed on your product:
American dates always list: MONTH, DATE, YEAR (Ex.  02/10/18 is February 10th, 2018)
European dates list as follows: DATE.MONTH.YEAR (Ex. 03.04.18 is April 03, 2018)
We thank you for you for choosing MyOrganicFormula and hope this is helpful!
Thank you!