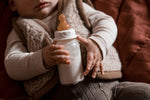 Is Formula Safe for Babies?
When breastfeeding doesn't work out, or you need to mix-feed, it's natural to want to make sure that the formula you choose is as close to breastmilk as possible. 
But choosing the right formula isn't always as simple as you'd hoped. Every brand claims their formula is healthy, nutritious and safe, but can all their claims really be right? Or are some formulas safer than others?
Look on the back of any box of formula and you'll see a long list of ingredients – and many of them are confusing and unfamiliar. Others are things you'd probably rather not see in your little one's milk, such as corn syrup, which has been linked to childhood obesity. 
Then there's the fact that some formulas contain traces of ingredients that aren't even listed. Potentially damaging chemicals such as melamine and cyanuric acid have been found in formula, and many formulas include GMOs and may have traces of pesticides, hormones and antibiotics. 
If all this sounds scary – don't worry. There are healthy formulas out there.
What to look for in a formula
If you want to be 100% sure you're not feeding your baby milk that contains potentially harmful ingredients, and provides optimum nutrition that's as close to breastmilk as possible, look for a formula that is:
Organic

– organic formulas are produced without the use of herbicides, pesticides, antibiotics, hormones or GMOs.

Free from artificial sweeteners

– milk is naturally sweet due to the lactose content, and it's lactose that provides the energy your little one needs to grow. But some formulas rely on added sucrose or corn syrup rather than lactose, which can spike blood sugar and have been linked to obesity.

Uses healthy fats

– babies need a high-fat diet to fuel their brain development, but some formulas use poor-quality oils that aren't easily absorbed by little stomachs. Look for a formula that uses organic vegetable oils or coconut oil. 
European organic brands tick all these boxes – because European organic regulations are the strictest in the world. 
While non-European organic formulas can also be a good choice, regulations elsewhere aren't as tight as they are in Europe, so it's much more difficult to be sure of what's in your formula.
Why choose European organic?
Most parents who've done the research end up choosing a European organic brand, such as HiPP, Holle, Lebenswert, or Loulouka.
Choose any of these brands, and you'll have the reassurance you need that your little one is getting the very best, protected by the EU's stringent requirements for organic agriculture and formula manufacturing. 
What's more, European organic farmers have been pioneers of the organic movement since the early 20th century and many European formula brands have been making organic formula and baby food for generations.
Here's what you can expect from European organic formula:
Strictly organic
All European organic brands must meet strict organic regulations, and some go even further. 
Lebenswert is part of Germany's Bioland Association, which has exceptionally high standards for healthy and sustainable food production. Holle is certified by Demeter, the international association for holistic, biodynamic agriculture. 
You can be certain that any European organic brand will be free from GMOs, pesticides, hormones and antibiotics.
Zero artificial sugar
Organic brands outside of Europe can include potentially damaging sugars that lack nutritional value, can spike blood sugar and include potentially harmful elements.
Organic rice syrup, for example, is sometimes used by non-European organic brands, even though it adds unnecessary sugar and can contain traces of arsenic. Other formulas use corn syrup or sucrose, which are banned in Europe.
Instead, European organic brands rely on natural lactose (just like breastmilk), and some use a mild organic starch to provide balanced sweetness and energy.
No unnecessary additives
European organic formula only includes nutritionally beneficial ingredients – milk from pasture-raised cows or goats, healthy fats, essential vitamins and minerals. The exact balance of nutrients is different for each brand and product, but is always based on years of experience and research. 
Where to find European organic formula
While you won't find European organic brands on your local supermarket shelf, it's easy and convenient to have them shipped to your door direct from Europe.
With My Organic Formula, you can get safe, healthy formula delivered in as little as 3 business days using trusted carriers. There's even the option to set up a subscription so that your formula orders arrive automatically.