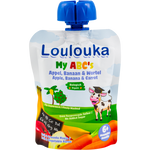 Ready to feed

From 6 months on

100% organic fruits and vegetables

Zero added sugars or sweeteners

Rich in vitamin C

Single pack contains 10 pouches

Made in Switzerland

Vegan
Loulouka pouches are tasty organic fruits and vegetables mashed up finely for young eaters packed in a ready-to-go pouch. Depending on how much your baby is ready to eat in a sitting, you can offer a few spoonfuls or watch them eat it all up. The reclosable cap makes it simple to seal and keep for another feeding.
When is Your Baby Ready for Solids?
When is your little one ready for solids? There are a number of readiness signs:
Holding up head independently

Sitting up well

Interest in chewing and what others around them are chewing

Picks up food and brings to mouth
These signs for readiness to eat solids can start as early as 4 months, but it is recommended that infants start around six months in order to boost their nutrient intake.
Tip: All of Loulouka pouches are made with a combination of fruits. Before you offer any of these products to your little one, make sure you have offered these foods individually to ensure that they tolerate them and are not allergic. If you offer, for example, an apple for 3 to 5 days without any reaction, then they are ready for more apples. Then try bananas separately and repeat the process.
Why Choose Loulouka Pouches?
Loulouka understands that parents want the best for their baby. This includes high quality ingredients that are 100% organic without any added ingredients that do not promote their growth and development. Loulouka also include the percentage of puree used in their blends so that you know exactly the balance of ingredients used.
It is important for Loulouka to keep added sugars and sweeteners out of their pouches. When a baby is learning how to eat solid foods, the natural flavors and naturally occurring sugars of the ingredients should be the star, not the added sweetness. Even as your little one is discovering new foods, their digestive system is still developing and maturing, so that is why the list of ingredients are simple.
Loulouka pouches are made in Switzerland with a dedication to quality ingredients that are rich in essential nutrients. There are no GMOs and no fillers. Only yummy foods that your baby will enjoy. In order to preserve the puree, it has been pasteurized and organic lemon juice and ascorbic acid have been added.
Loulouka Pouches
My ABCs stands for Apple, Banana, and Carrot. It contains 70% apple puree, 20% carrot puree, and 5% banana puree.
This combination of banana, blueberry, yogurt and oats makes a tasty breakfast or filling snack. It contains 48% yogurt, 43% banana puree, 7% blueberry puree, and oat flour.
It is a fruit and yogurt smoothie for infants that will have flavors dance in their mouth. It contains 35% apple puree, 33% yogurt, 20% banana puree, 10% mango puree, and oat flour.
All of the flavors of citrus create magic to your baby's taste buds. It contains 72% apple puree, 18% banana puree, 5% mandarin juice, and 4.7% orange juice.
This pouch has a kiss of strawberry goodness in every spoonful. It contains 80% apple puree, 15% strawberry puree, and 5% banana puree.
That touch of pineapple gives the Aloha Apple a hint of the tropics. It contains 57% apple puree, 23% carrot puree, 10% pineapple puree, and 10% banana puree.
How to Use Loulouka Pouches
Squeeze puree on a spoon and serve for tasting or eating

Mix with infant cereal for a boost of natural sweetness and flavor

Combine with chunkier foods for a smooth transition i.e. meats, beans, or steamed veggie
Once opened, refrigerate the pouch for up to 1 day.
Loulouka pouches are a great way to introduce a combination of delicious fruit and vegetable purees to your little one and help them transition to greater organic-eating adventures. Check out all of the flavors and savings on bulk sizes when you click here.