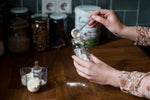 How Many Bottles Will My Box of Formula Make?
One of the most confusing things about getting started with formula is working out exactly how much your baby needs. This is true whatever formula you use – but when you've chosen a European organic brand, it can be even more tricky. 
Perhaps you're worried that you'll run out of formula if you get the calculation wrong – especially if your little one's appetite is growing fast. But if you order too much, will you end up with a lot of extra formula that you can't use before your baby is ready for the next stage up?
We know that this is something many parents need help with – but don't worry, it's not as confusing as it looks. 
What size boxes does European organic formula come in?
Anything from 400g up to 900g – or around 14 to 31 ounces. Unlike other formula brands, European brands always use grams and liters rather than ounces and fluid ounces.
The amount varies both within and between brands, so anytime you're switching brands or moving up to a new stage, make sure you check the weight of the box (or can) before you order – you might need to order more or fewer than usual. 
Some brands make their infant (stage 1 and stage pre) formulas in smaller containers, and follow-on milk for stage 2+ in larger containers. Holle, for example, makes their cow's milk stage 1 in 400g boxes, and stage 2, 3 and 4 in 600g boxes (though all their goat's milk formulas come in 400g). 
But HiPP UK works the other way around, with stage 1 and 2 in an 800g box, and stage 3 in a 600g box. This makes some sense, as 1 year olds are likely to be drinking less formula than newborns. 
How much formula does each box make?
This varies a little depending on the brand. Each box will come with instructions and a scoop for measuring out formula, so you can't go wrong. Scoop sizes vary between brands by as much as 2 grams (or even within brands), so never use a scoop from one brand or stage to make formula from another. 
As a rough guide, an 800g box of formula will make around 2 liters (or 200 fluid ounces) of formula. That might be around 20 bottles for a newborn, and 10 for an older baby. 
But of course, appetites vary considerably. Some babies will take larger bottles over fewer feeds, and others will want little and often. Some drop night feeds early, and need more formula during the day to make up for it. 
As long as your baby is feeding regularly and putting on weight as expected, they'll usually regulate their own appetite (just as breastfed babies do). If you have any concerns about how your little one is feeding, contact your pediatrician for reassurance. 
How do I choose the right formula for my baby?
You'll find the box sizes and guidance on how much formula each box will make on every product page in our store and in the table below. 
How Many Bottles are in Each Package of Formula
| | | | | | | | |
| --- | --- | --- | --- | --- | --- | --- | --- |
| Formula | Package size | Scoop size | 3 oz bottles | 4 oz bottles | 5 oz bottles | 6 oz bottles | 7 oz bottles |
| | 800 g | 4.3 g | 62 | 47 | 37 | 31 | 27 |
| | 800 g | 4.5 g | 59 | 44 | 35 | 30 | 25 |
| | 800 g | 4.0 g | 67 | 50 | 40 | 34 | 29 |
| | 600 g | 4.3 g | 46.5 | 35 | 28 | 23 | 20 |
| | 600 g | 4.4 g | 45.5 | 34 | 27 | 23 | 20 |
| | 600 g | 4.5 g | 44.5 | 33 | 27 | 22 | 19 |
| | 600 g | 4.5 g | 44.5 | 33 | 27 | 22 | 19 |
| | 600 g | 4.5 g | 44.5 | 33 | 27 | 22 | 19 |
| | 600 g | 5.4 g | 37 | 28 | 22 | 19 | 16 |
| | 800 g | 4.3 g | 62 | 47 | 37 | 31 | 27 |
| | 800 g | 4.5 g | 59 | 44 | 35 | 30 | 25 |
| | 600 g | 3.6 g | 55.5 | 42 | 33 | 28 | 24 |
| | 400 g | 4.4 g | 30 | 23 | 18 | 15 | 13 |
| | 400 g | 4.4 g | 30 | 23 | 18 | 15 | 13 |
| | 600 g | 4.5 g | 44 | 33 | 26 | 22 | 19 |
| | 600 g | 4.4 g | 45.5 | 34 | 27 | 23 | 20 |
| | 600 g | 4.4 g | 45.5 | 34 | 27 | 23 | 20 |
| | 400 g | 4.9 g | 27 | 20 | 16 | 14 | 12 |
| | 400 g | 4.9 g | 27 | 20 | 16 | 14 | 12 |
| | 400 g | 4.9 g | 27 | 20 | 16 | 14 | 12 |
| | 900 g | 4.3 g | 70 | 53 | 42 | 35 | 30 |
| | 900 g | 4.5 g | 67 | 50 | 40 | 34 | 29 |
| | 900 g | 4.7 g | 64 | 48 | 38 | 32 | 28 |
| | 400 g | 4.4 g | 30 | 23 | 18 | 15 | 13 |
| Loulouka Goat 2 | 400 g | 4.4 g | 30 | 23 | 18 | 15 | 13 |
| | 500 g | 4.4 g | 38 | 29 | 23 | 19 | 16 |
| | 500 g | 4.4 g | 38 | 29 | 23 | 19 | 16 |
| | 475 g | 4.6 g | 34 | 26 | 20 | 17 | 15 |
| | 900 g | 4.3 g | 70 | 53 | 42 | 35 | 30 |
| | 900 g | 4.3 g | 70 | 53 | 42 | 35 | 30 |
| | 900 g | 4.3 g | 70 | 53 | 42 | 35 | 30 |
| | 600 g | 4.3 g | 46.5 | 35 | 28 | 23 | 20 |
| | 500 g | 4.3 g | 39 | 29 | 23 | 20 | 17 |
| | 600 g | 4.3 g | 46.5 | 35 | 28 | 23 | 20 |
| | 600 g | 4.6 g | 43.5 | 33 | 26 | 22 | 19 |
| | 600 g | 4.7 g | 42.5 | 32 | 26 | 21 | 18 |